It's a cold world. Even colder on your own…
This song started its life as an idea I came up with when playing with my MIDI guitar hero controller modification. My brother was working on programming new modes into the controller which included some interesting ways of playing chords. I came up with the the foundational elements that you hear at the beginning of the song (the stuff before the piano) completely on this new instrument (pictured below).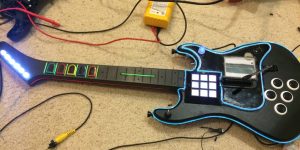 Anyway, the theme of this song should be pretty obvious based on the title alone. I was definitely going through a period of loneliness at the time, feeling the bitter chill of a lost relationship. The more I look back at my music, the more I realize that the songs that make it to completion really do capture a moment of my life. I used to think it was just, "well, I thought this sounded cool, so I did it." Now I'm realizing more and more that music can reveal to me what's going on in my life. I'm hoping it can also be a tool to help others understand themselves as it has helped me.
Nothing here… Yet!
Have you created a remix/cover you'd like to see here? Contact me via discord/email and we'll see if it's a good fit. Stems for all my songs are available to $5 Patrons.
Lossless Audio &
High-Res Artwork
Remix Stems &
3D Printable Files